formula vr
Formula VR Simulators cockpit
By VELOCIPEDE
1,442 views
La olandese FormulaVR ha presentato ufficialmente il suo nuovo Formula VR Simulators cockpit, un simulatore di guida dinamico dedicato alle monoposto dotato di sistema di movimento basato sul 3DOF (ovvero 3 gradi di libertà) ed una inedita soluzione con casco Arai per il visore Oculus Rift. Tutti i dettagli qui di seguito, con annesso video di anteprima.
With great pride we introduce the next level single seater style full motion race simulator; the F-VR1.
The F-VR1 is a unique and stylish full motion simulator aimed for professional home use. Just like the F-VR2 and F-VR3 its a hand made and custom build race simulator. Its designed and engineered in-house specifically for formula style race cars like F1, F2, F3, F4, GP3, Formula E, Formula Renault,  Indycar, Indy lights, Super Formula etc.
The F-VR1 is a beautifully designed and hand build Formula1 style monocoque that replicates the ergonomics and compactness of an Formula1 or single seater racing car. The level of detail is very important to complete the ultimate thrill that titles like iRacing, Rfactor2,  Asseto corsa, RaceRoom, Project Cars, Automobilista and Formula1 2016 are offering on screens, projection or VR glasses."
Whether your a race driver practicing the best race lines, an enthusiast feeling the ultimate racing thrill at home, or a commercial enterprise, the F-VR1 adds a massive sense of realism of actually being out there on the track!
One of many unique features of the F-VR range is that it allows a wide variety of postures, while offering them all the same single seater racing experience. Besides a quick release on the formula steering wheel it has a premium ForceFeedBack base that can be moved out of the cockpit aperture to allow maximum entry and exit if required."
Adding to these wide ergonomic settings, is the fully customisable formula style pedal-box that can be adjusted in length just like a real formula1 race car.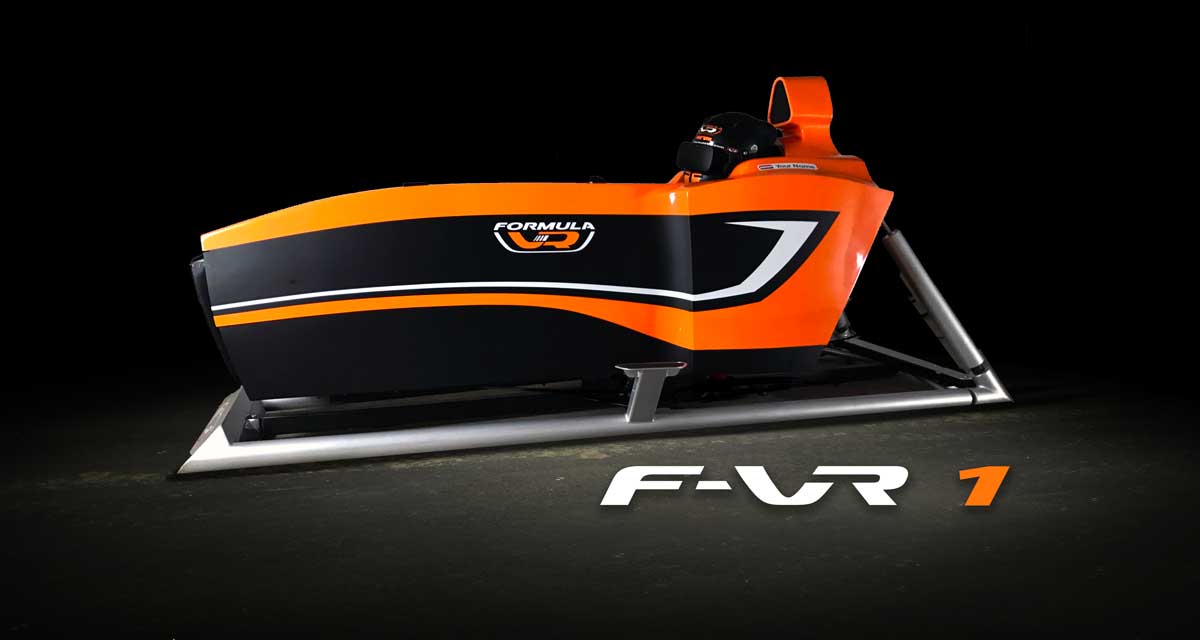 The F-VR1 full motion simulator features 3 ultra fast actuators (3 dof *) that replicates all road surface details and bumps from the laser scanned race tracks from all over the world, VR-FullMotion™ System The F-VR1 full motion simulator also features our unique VR-TractionLoss™ oversteer system for even more detailed handling feedback.
The F-VR1 full motion simulator features a unique in-house development that replicates the loss of traction during harsh acceleration or oversteer moments; VR-TractionLoss™. The F-VR handmade monocoque is moved side ways by a ultra fast actuator allowing the drivers senses to respond more quickly to this situation, resulting in a better chance to keep the single seater on the track and improve his response time.
The F-VR1 motion simulator is, as standard, equiped with our unique VR-BeltForce™ system. During hard braking the belts put pressure onto the drivers body replicating G-forces generated during braking in a real Formula car.
The F-VR simulators are all equiped with a easy entry steering system. By rotating it out of the cockpit area a larger opening is created allowing for easy entry and exit. The super robust and strong steering mounting system is also capable of mounting Direct Drive steering systems like Leo bodner's Simsteering®
The F-VR1 and F-VR2 are equipped with a advanced VR-TrackVibe system to replicate even the finest vibration in the car. Vibrations of the 4 wheels and engine are being transferred into the monocoque to literally feel the tarmac and being able to quiclky respond to it.
HelmetVR has a perfect system wide integration with FormulaVR. The Tracker for instance is nicely integrated into the formula1 style motion simulator the F-VR1. Feeling the monocoque around you, the HelmetVR on you head brings you as close to the track as possible.
FormulaVR_HelmetVR trailer from FormulaVR on Vimeo.
---