About This File
Introducing the Ford P68 inspired  Grad Turismo Prototype 2013 for Assetto Corsa

Driver and project dedication to Jochen Rindt.
Body
Vacuum moded Kevlar-honeycomb reinforced GFRP, Epoxy matrix. Sealed cockpit. Total body mass (w/o windows and w/o paint): 24kg (weighted).
Chassis
Aluminium and steel sheet metal based monocoque design. Two-piece rear bulkhead allows for easy installation and removal of the drivetrain. TIG-welded, painted and waxed steel members, solid and Cherry-Max riveted aluminium members. Total mass: 91kg (weighted), torsional stiffness: 12kNm/° (FEM-computed with discretized rivet connections, stiffening roof structure influence not considered in computation).
Engine
Ford Windsor V8-SB Dart Aluminium block. Dart Pro 1 Aluminium cylinder heads. Displacement: 5957cm³ (364in³), naturally aspirated, petrol fueled. Mechanical power outpout approximately 600hp (note: not measured). External electric coolant pump, temperature controlled. Dry sump oil system, dual filtered, dual oil tanks. Electronically controlled distributor ignition. Electronically controlled port injection fuel system, slide throttle arrangement. Dual catalytic converters, dual reflexion-type mufflers.
Gearbox
Quaife ZFQ five speed (5+1R), synchro mesh.
Cardan shaft shifting mechanism
Suspension
Independent front and rear, rear wheel drive. Infinitely variable stabilizer bars front and rear. Dual adjustable shock absorbers front and rear.
Wheels: Ø15", w=14" rear; Ø15", w=10" front
Dimensions
Greatest length: 4.450m
Greatest width: 1.855m
Roof height: 0.960m (37.8") (w. 0.110m ground clearance)
Total mass: 740kg (w. oil, w. coolant, w. 50Ah/1kA battery, w. radiator fans, w. catalytic converters, w. mufflers, w. A/C system, w/o fuel, w/o driver)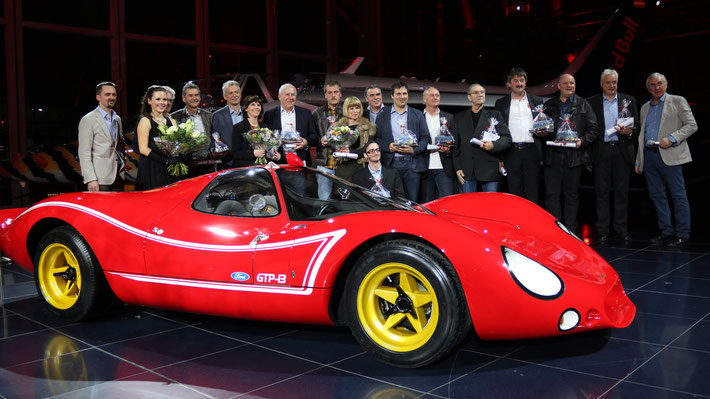 Camera & Editing: Philipp Steiner, www.philippsteiner.at
Dancer: Laura Gallota

Project Team Details:
https://www.gtp13.com/
Original Designer : Dr.-Ing. Alex Fillafer
Project Leader: Rudolf Fillafer
Namlach 28
A-9841 Winklern
Austria
Sim Racing Project Commissioner: Nigel May
MOD dev, Physics and Handling Developer support: Gift Horse Mouth Studios
Feedback? care@gifthorsemouth.com http://www.gifthorsemouth.com/
Previous project: http://www.drivingitalia.net/forum/index.php?app=downloads&showfile=7969
Additional information:
The GTP-13 mod for Assetto Corsa is a free to play work  This projects goal is to continue the story of the P68 in todays shape and support this amazing teams work and deliver to the hearts and minds through race simulation.

The history of the GTP13 is available https://www.gtp13.com/english/history-gtp-13/
mission statement:
Through Q1 and Q2 2017 a continuous refinement of the car will be underway to reward the original team and sim racing community with a not for profit purist delivery possible of Automobile.
Change log will be added here:
 6th Jan 2017: Completed
- updated 0.11 version, which includes the suspension quick fix:
Ver 0.12 Proposed Jan change log: In Progress
- Fully working and textured cockpit model (this will include the windshield artefacts)
- Physics tweaks
- Body Template with original GTP-13 livery


Any other update or interesting news?
-Yes, an early look press pack of the progression of the car & cockpit, should be made available to the community soon.
21st Jan Queued Change log addition:
- Driver dedication: Jochen Rindt
- One addtional Jochen Rindt's P68 skin in the 1968 season in Brands Hatch is approved
- JOCHEN RINDT  Classic F1 Helmet
- Montary Disclaimer addition.
- wheelbase: 2308mm
- front tyre: Dunlop CR82 "post historic" 430/1160-15 (tread 231mm, overall 287mm)
- rear tyre:  -"-                         530/1500-15 (tread 320mm, overall 406mm)
- distance between road and upper edge of tail spoiler: 660mm
- three openings in tail: center w335xh170mm; outer ones: w144xh188mm
- exhaust end pipes: Ø64mm
- two rear outer lights (amber;position/brake): chrome ring largest Ø82mm
- rear inner lights (fog;reversing): glass body largest Ø55mm
- updated broken drop box dl link
25th Jan 2020
-  on the road added (vid)
 
---
What's New in Version
v0.82
See changelog
Released
30th May 2017
New build changelog:
- new white with tasteful red stripe skin- driver dedication to David Tremayne, author of "Jochen Rindt: Uncrowned King"
-  new Gulf Blue skin - driver dedication to Design Engineer Alex Fillafer. (We wanted to feedback a really special 60's feeling for the wonderful efforts into Automobile by Alex).
-  New Roof Mirror
-  Jochen Rindt clothing update inside Alan Mann Racing BOAC International 500, Brands Hatch 6 Hours 1968 skin.
"Jochen was a hard driver but a clean driver. A lot of fun to drive with. You could really drive wheel-to-wheel with him in some absolutely unbelievable situations, and know you were okay. Incredible".
Jack Brabham
Project Team Details: for more information or enquires regarding this car.
https://www.gtp13.com/
Original Designer : Dr.-Ing. Alex Fillafer
Project Leader
:
Rudolf Fillafer
Namlach 28
A-9841 Winklern
Austria
Reproduced into Assetto Corsa with friendly permission from Rudolf Fillafer & Alex Fillafer.
This has been a Gift Horse Mouth Production.